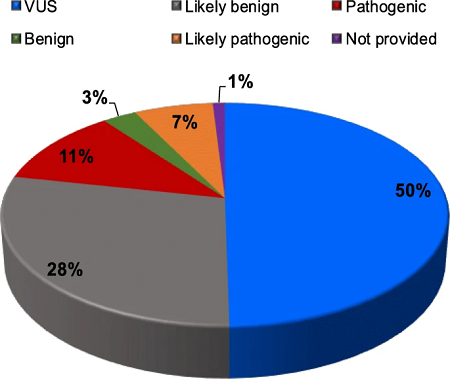 The promising expectations about personalized medicine have opened the path to routine large-scale sequencing and increased the importance of genetic counseling for hereditary cancers, among which hereditary breast and ovary cancers (HBOC) have a major impact. High-throughput sequencing, or Next-Generation Sequencing (NGS), has improved cancer patient management, ameliorating diagnosis and treatment decisions. In addition to its undeniable clinical utility, NGS is also unveiling a large number of variants that we are still not able to clearly define and classify, the variants of uncertain significance (VUS), which account for about 40% of total variants. At present, VUS use in the clinical context is challenging. Medical reports may omit this kind of data and, even when included, they limit the clinical utility of genetic information. This has prompted the scientific community to seek easily applicable tests to accurately classify VUS and increase the amount of usable information from NGS data.
In this review, Federici & Soddu focus on NGS and classification systems for VUS investigation, with particular attention on HBOC-related genes and in vitro functional tests developed for ameliorating and accelerating variant classification in cancer.
Click here to access all of the reviews published to date in Journal of Experimental & Clinical Cancer Research.